Nov 2, 2009 saw the official launch of the Sembang-sembang Forum by the Deputy Chief Minister of Penang YB Mansur Othman held in conjunction with a speech delivered by the coordinator of Pakatan Rakyat Datuk Zaid Ibrahim entitled "Two-Party System for Malaysia".

The event started with the introduction of the Sembang-sembang Forum by Khim Pa, a member of the organizing group. He informed that the Forum was formed by a group of anak-anak Pulau Pinang to encourage civil society discussion as well as participation on social issues. It is a non-profit non-governmental organization.

The Forum was called to order by YB Sim who is the ADUN for the Pantai Jerejak constituency in Penang Island.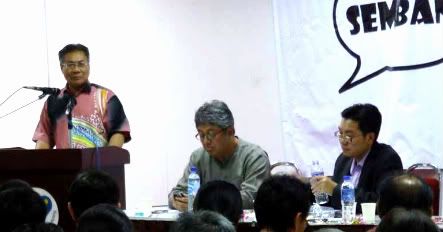 Deputy Chief Minister of Penang State
YB Mansur Othman
launching the Sembang-sembang Forum.

The Deputy Chief Minister of Penang State YB Mansur Othman officially launched the Sembang-sembang Forum.

YB Mansur Othman outlined the formation of a coalition of opposition parties in 1998 leading to the successful installation of five Pakatan Rakyat state governments after the March 8, 2008 general election. This was made possible by the rakyat who have rejected communal politics and responded to the call for a new politics based on justice, democratic rights and efficient government. This new politics will inevitably lead to the evolution of the two-party system in Malaysia.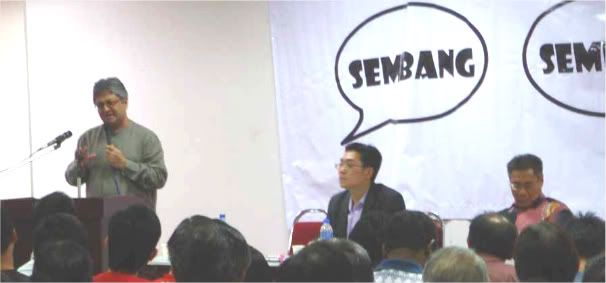 Datuk Zaid Ibrahim delivering his speech



Datuk Zaid Ibrahim delivered his speech to an enthusiastic audience. ( Read transcript of the speech in a separate post below). The Question and Answer session saw vigorous participation by the audience with a wide range of questions asked. Both speakers gave clarification and answers at considerable length.
An enthusiastic and attentive audience
Distinguished guests and audience



Many participants purchased the latest book by Datuk Zaid Ibrahim "I, too, Am Malay" and also registered themselves for future Sembang-sembang Forum events.
The busy registration and book sale counter


Members of the Press and bloggers turned out in force. Anil Netto was blogging in real time on site. At the end of the forum reporters took the opportunity to ask Datuk Zaid Ibrahim on current issues.
Many participants also had their books autographed by Datuk Zaid.

The meeting ended at 10.45pm.

The organizers would like to apologize for the soft volume of the sound system during the meeting. Measures will be taken to improve the sound system in future events.

Links to press and blogs coverage of the event:

再益辟谣:我没退党